Parish communities are encouraged to explore ways and provide opportunities to assist adults and young people to grow in their faith.
The Pastoral Ministries Office can assist parishes in providing resources for faith formation.
Families
There are many ways in which families can grow into their faith and assist their children into learning to love Jesus Christ.
Parents are the first teachers of faith to their children. It is within the family where children are raised and formed as human beings. The parental role in this human formation is governed by love, a love which places itself "at the service of children to draw forth from them the best that is in them" and which "finds its fullest expression precisely in the task of educating." (Compendium of the Social Doctrine of the Catholic Church, No. 239) The family is the "first school of faith."
Parents are assisted to raise their children in the Catholic faith by their local Catholic parish and school communities. Some of the most significant times of faith formation occur during the preparation of children for the Sacraments of Initiation.
These highpoints offer opportunities for living and celebrating the Catholic faith. They are moments which enable us to welcome families into our midst and to incorporate them into the life of the parish.
Family Resource
LET'S CONNECT! contains a wide variety of live links to online information, networks and resources to enrich, interest and support families in their Christian living.
We hope that this resource will be a support to families of all ages and stages on their faith journey.
It covers the areas of Marriage and Family Life, Spirituality & Prayer, Social Media & Resources, Community Connections, Faith Formation and Help & Support.
We acknowledge and thank the Diocese of Sandhurst for the use of some of the material from their resource.
It is available here as a PDF download which can be opened on a mobile phone or tablet. Click on the image to download.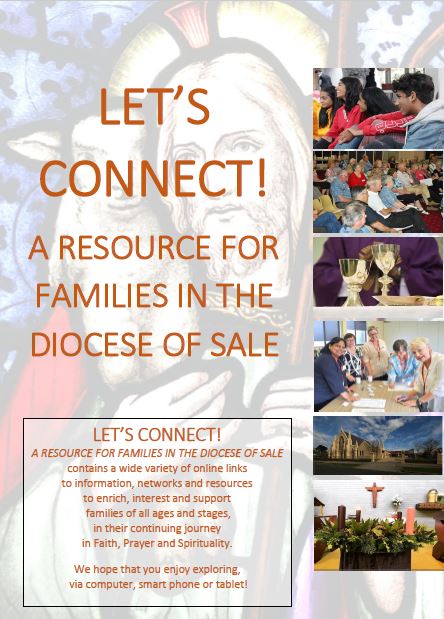 Published in March 2021 and reviewed in March 2022, this electronic resource has been produced by the Diocesan Plenary Council 'Gaudium et Spes' Team, responding to the proceedings and outcomes of the 2019 Sale Diocesan Assembly.
Prayer Resources
The Diocese of Sale has developed some prayer resources to assist families in praying at home, especially before meals. These Prayer Placemats are a simple and effective way to introduce children to praying before meals.
See the Prayer and Sacrament Resources for more information.