Carrying Forward the Plenary Council
At Pentecost 2023, the Bishops Conference published Carrying Forward the Plenary Council: As we continue the journey together.
The document invites Catholic parishes, schools and other communities to pray about, reflect upon and review what they are already doing, or could be doing, in relation to acting on the commitments the Council members made in the Decree.
As Plenary Council Vice-president Bishop Shane Mackinlay wrote, Carrying Forward the Plenary Council "can help us continue with the synodal journey, walking together and encountering the face of Christ in each person".
Click the link below to download Carrying Forward the Plenary Council.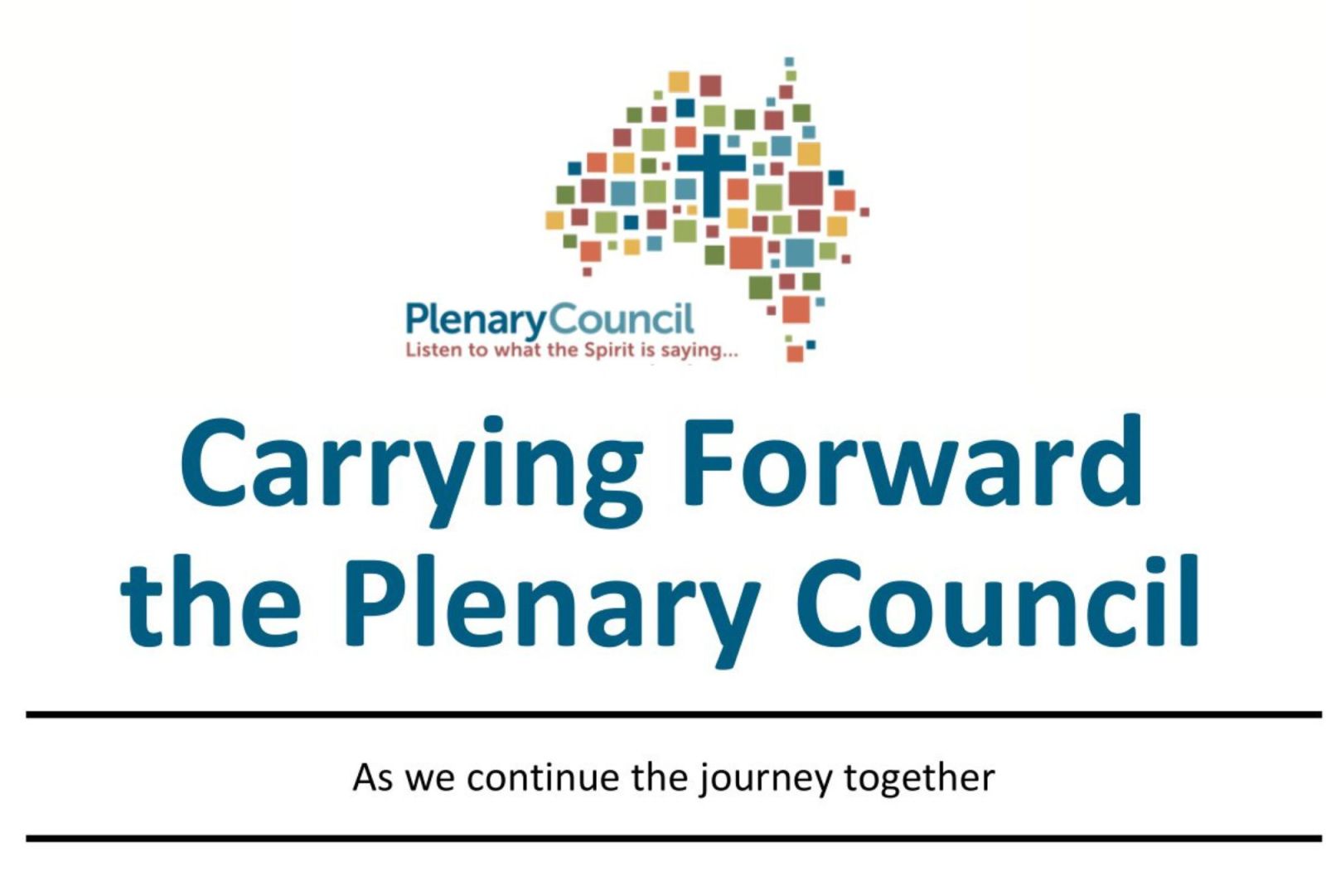 Carrying Forward the Plenary Council: As we continue the journey together
This document is a handy guidebook and resource for all Catholic entities and provides discussion questions on how the fruits of the Plenary Council might be implemented within local communities
Click below for Terms of Reference for the implementation of the Decrees.

Access Plenary Council Decrees and other Plenary Council Resources https://plenarycouncil.catholic.org.au/
Extracted from the Plenary Council website and CathNews
The Second Assembly of the Fifth Plenary Council of Australia will be held from 3-9 July 2022. It is a time of significance for the Church in Australia as Council Members gather to pray, reflect, discuss and discern the path to which the Holy Spirit is calling us. It is also strongly aligned towards the world-wide preparation for the Synod of Bishops in 2023.
There is much excitement as our Plenary Council Members, Bishop Greg Bennet, Fr Peter Slater VG, Fr Denis O'Bryan EV, Lize Privitera, Katherine Jelavic and Sr Mary Olofu SON prepare to meet in person as part of the 277-member strong Assembly in Sydney. Also present will be official observers, including Cardinal Charles Maung Bo, President of the Federation of Asian Catholic Bishops and Cardinal John Dew, President of the New Zealand Catholic Bishops Conference.
The Plenary Council Members have been reflecting on the Framework for Motions document. There are 30 motions across eight mission areas which will be discussed at the Second Assembly.
These have emerged from the discernment process of the First Assembly, held in October 2021. The road to the Framework for Motions is the result of four years of the Plenary Council journey which began in 2018, with various phases, including the Listening and Dialogue phase which drew more than 17,000 submissions from around Australia, representing more than 222,000 people.
The Eight Mission areas covered in the Framework for Motions are:
Reconciliation: Healing Wounds, Receiving Gifts;
Choosing Repentance - Seeking Healing;
Called by Christ - Sent Forth as Missionary Disciples;
Witnessing to the Equal Dignity of Women and Men;
Communion in Grace: Sacrament to the World;
Formation and Leadership for Mission and Ministry;
At the Service of Communion, Participation and Mission: Governance;
Integral Ecology and Conversion for the Sake of Our Common Home.