Nine townhouses will be built in Officer by CatholicCare Victoria as part of efforts to help their clients have a place to call home.
CatholicCare Victoria is committed to developing healthy and flourishing communities.
Part of this commitment includes identifying and addressing barriers that prevent our community from thriving.
Our staff regularly tell us that the barrier which often inhibits our clients from accessing the support they need to thrive is a lack of affordable housing.
Without the safety and stability of a place to call home, it is difficult to address issues around mental and physical health, unemployment, family violence, addiction, and entrenched disadvantage and poverty.
Social housing is a foundational element of building thriving communities. As a state-wide organisation, CatholicCare Victoria has the opportunity to enhance and expand our social housing services and break another barrier holding our community back.
We are delighted to announce that the Victorian state government has awarded $32.5 million to Centacare Housing Services - a subsidiary of CatholicCare Victoria - to deliver social housing projects in Victoria as part of the government's Big Housing Build.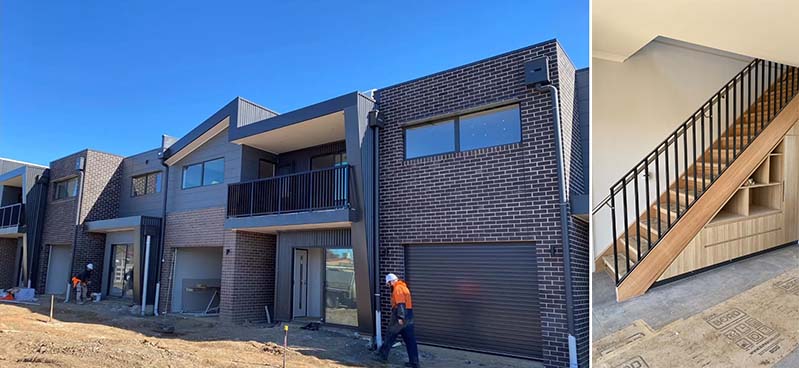 Image: An example of the type of housing being developed , nine new townhouses in the Ballarat region (pictured), already nearly complete.
The expansion of our social housing services will build a foundation for our services across the organisation to work together to create thriving communities.
On the night of the 2016 Census, 40% of those who were experiencing homelessness said it was due to a lack of housing.
We are seeing a growing need for affordable housing in Victoria: our social housing projects in collaboration with the Victorian Government will address this need.
We are motivated by our core mission to care for, uphold and honour the inherent dignity of every person, and we believe our engagement in social housing enables people to attain a level of security, which having a home brings: stability, safety, wellbeing, access to health services, educational opportunities, employment, community engagement and so much more.
We are also looking to establish partnerships and co-contributors within our state-wide community to enhance our service delivery and make significant positive impact for homeless Victorians and those at risk of homelessness.
"CatholicCare Victoria is committed to ensuring every household member receives the support needed to address whatever disadvantages and trauma experiences are undermining their opportunities and wellbeing. We are motivated by our core mission to care for, uphold and honour the inherent dignity of every person."

Statement from CatholicCare Victoria's Members, the four Catholic Bishops of Victoria: Most Rev Peter A Comensoli, Most Rev Paul Bernard Bird CSsR, Most Rev Shane Mackinlay, & Most Rev Greg Bennet.
The 147 new homes proposed as part of our two upcoming projects will be built in Delacombe (Ballarat), Officer, Darley, Melton South, Warrnambool and Bacchus Marsh, and the homes will be made available to:
people who are living with mental illness or disability
people escaping family violence
Victoria's First Peoples
individuals experiencing homelessness
and others in the most need for housing
We'd like to thank our Members, the Board and our staff for their commitment and generosity in supporting this substantial project to support the most vulnerable people in our community.
The two housing builds for this project are set to commence by December 2021.
Source: CatholicCare Victoria News