Fifth Bishop of Sale: 1968-1981
Bishop Arthur Francis Fox was born at East Brunswick on August 27, 1904. He was the youngest child of William Fox and his wife Mary, nee Williams.
He was educated by the Sisters of Mercy at East Brunswick. He later attended Christian Brothers College and St Kevin's College (both located within East Melbourne). He studied for the priesthood at Corpus Christi College, Werribee, where he was among the first group of students to enter the seminary when it was established in 1923.
He was ordained a priest by Archbishop Daniel Mannix at St Patrick's Cathedral, Melbourne, on July 13, 1930. He was Vicar General of the archdiocese when on October 11, 1956, he was appointed an auxiliary bishop for the Melbourne Archdiocese to Archbishop Mannix by Pope Pius XII. He was consecrated in St Patrick's Cathedral, Melbourne by Coadjutor Archbishop of Melbourne Justin Daniel Symonds on January 20, 1957. Co-consecrators were Bishop James O'Collins of Ballarat and Bishop Denis Stewart of Sandhurst.
Bishop Fox became famous for his stance on issues ranging from abortion to pensions. Regarded as a hard-line conservative, he achieved prominence by denouncing left-wing unions and the Australian Labour Party's links with Communism.
On November 19, 1967 he was appointed Bishop of Sale by Pope Paul VI and was enthroned at St Mary's Cathedral on January 31, 1968.
Bishop Fox made many notable contributions to the diocese and wider civic community. He was instrumental in negotiating the transfer of government funding for Melbourne Catholic Nursing Homes to Sale so that Ashleigh House could be established. In celebrating the golden jubilee of his ordination in 1981, with the many donations he received, he opened the Bishop Fox Golden Jubilee Bursary Fund for the education of priests for the Diocese of Sale.
On October 16, 1980, Pope John Paul II accepted the bishop's resignation but he continued on as apostolic administrator until at the age of 77 he left Sale to live in retirement at East Blackburn.
His eyesight became extremely poor over the years. By the time of his death in Melbourne on February 16, 1997, he was already blind.
He is buried in the crypt in Our Lady's Chapel at St Mary's Cathedral, Sale.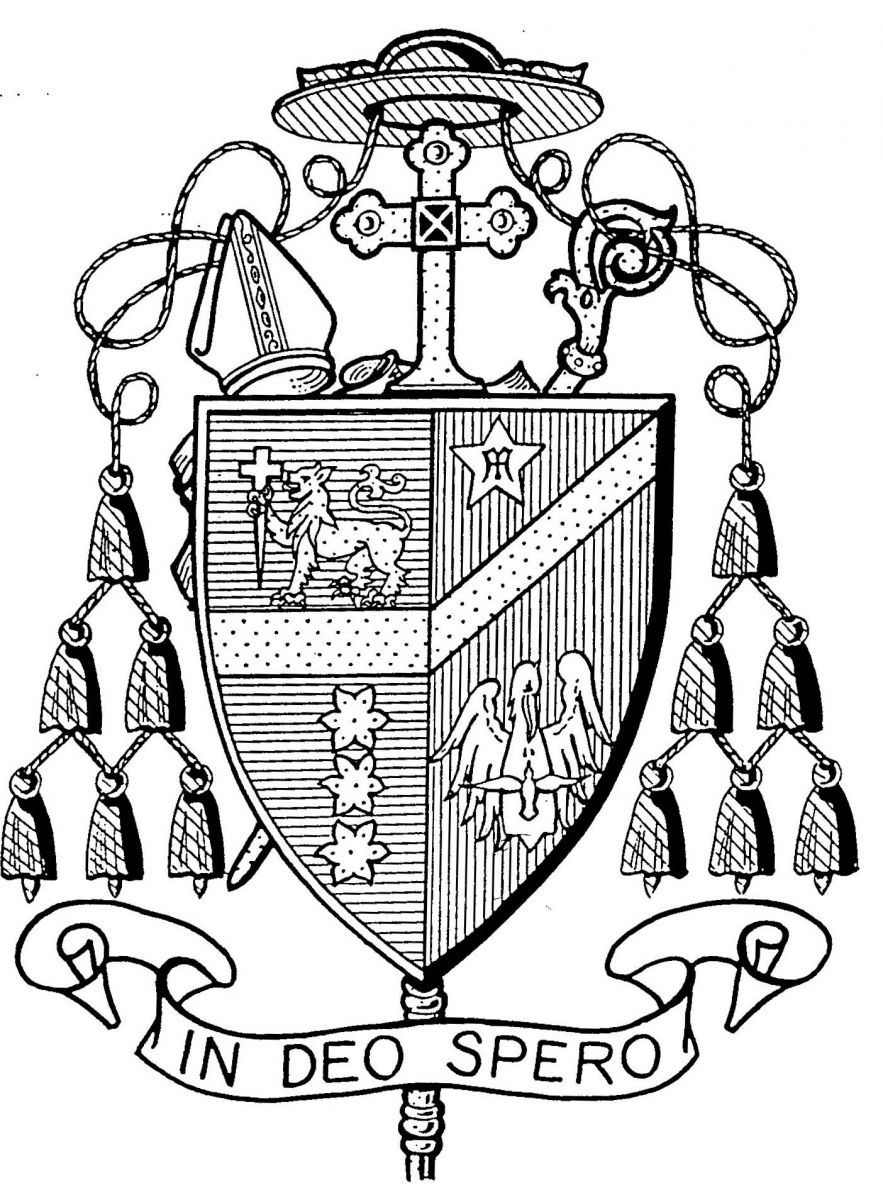 The Coat of Arms
Bishop Fox's official coat of arms features the Sale Diocese arms on the left-hand side. On the right, above a diagonal yellow line, is a five pointed star. Sitting below, also lays a pelican.
This pelican is drawn in the traditional heraldic manner with wings spread, wounding her breast with her beak (vulning) so as to feed her blood to her young. The pelican is an obvious feature of the Fox arms because it appears on various Fox family arms, notably those of famous Bishop of Derham, England, Bishop Richard Fox, who established Corpus Christi College in Winchester. The pelican is also on the coat of arms of Corpus Christ College, Werribee, where Bishop Fox attended seminary.
The motto in, "Deo Spero", translates as "In Hope in God".
Bishop Fox had a modified version of the arms on his letterhead (see black and white sketch at right) with the diagonal yellow stripe meeting the yellow bar on the left and a Marian symbol placed in the star. In a break from heraldic tradition, he altered the Diocese arms on the left hand side of the shield by placing the three wavy stars (estoiles) in a vertical line instead of two and one pattern, and made the stars much plumper.