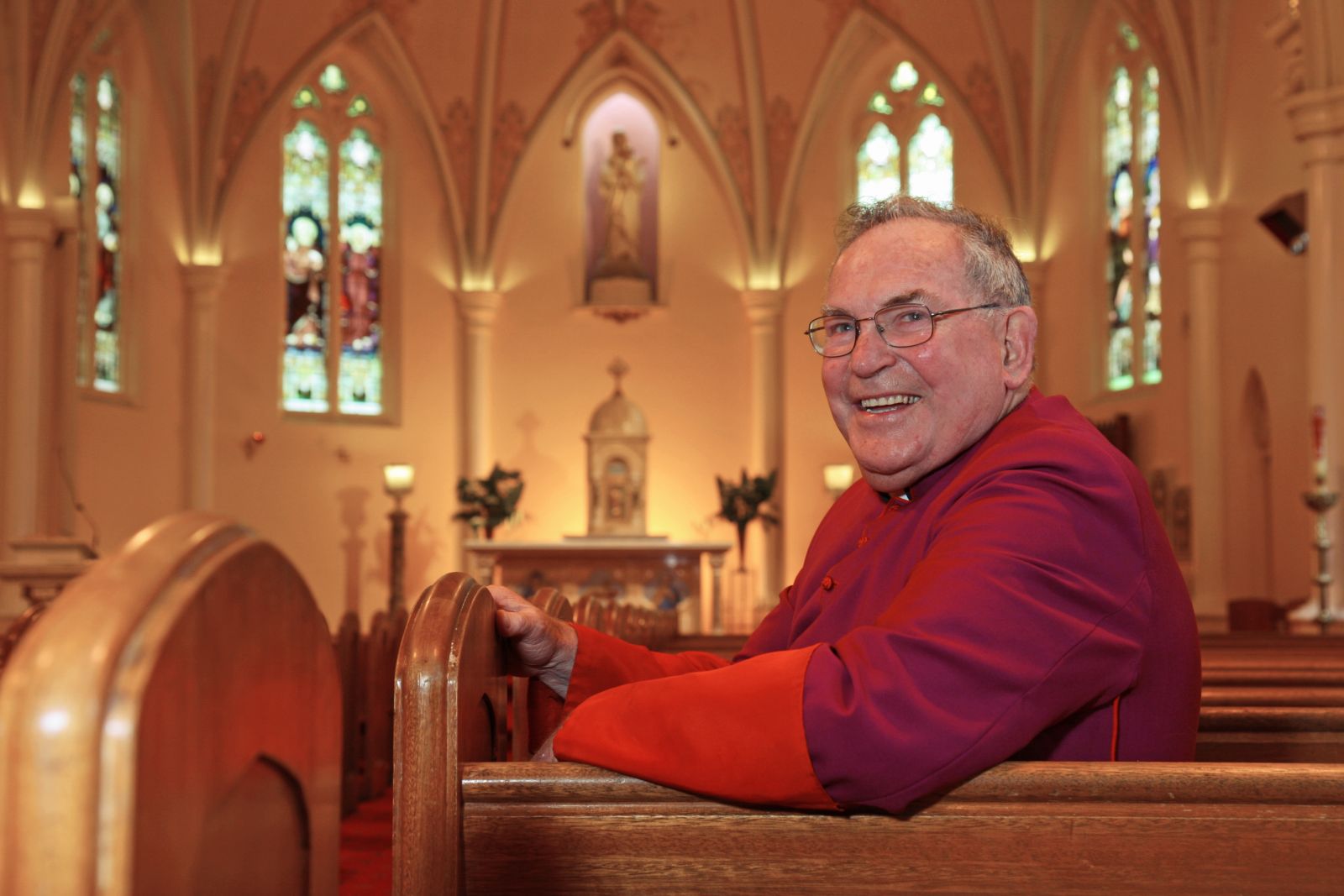 Seventh Bishop of Sale: 1989-2008
Bishop Jeremiah Coffey was the fourth Bishop of Sale to have been born overseas and was the third to have come from Ireland.
He was born in Cork on January 1, 1933. He was the son of Patrick Coffey and his wife Catherine, nee Ahern.
He was educated at Model School, Cork, before attending St Nessan's Christian Brothers' School. He attended University College, Dublin, where he was awarded a Bachelor of Arts and then studied for the priesthood at the famous All Hallows College where priests were ordained to serve as missionaries in foreign dioceses. When he chose to come to Australia, he specifically chose the Diocese of Sale because it was near the sea (much like his homeland, Cork).
He was ordained a priest for the Diocese of Sale at All Hallows on June 22, 1958, by Archbishop James Skinner CIM of St John's, Newfoundland, Canada. He arrived in Sale Diocese on September 15, 1958, and served in the parishes of Bairnsdale, Sale, Traralgon, Omeo, Iona, and Yallourn, prior to being appointed the first parish priest of Churchill, which had been created from Morwell Parish.
He was appointed Rector at Corpus Christi Seminary, Clayton in 1987. Pope John Paul II appointed him seventh Bishop of Sale on April 8, 1989, and he was consecrated a bishop by Archbishop Sir Frank Little of Melbourne in a massive marquee on the grounds of St Patrick's Campus of Sale Catholic College (now Catholic College Sale) on June 30, 1989. Co-consecrators were his predecessor Archbishop Eric D'Arcy of Hobart and Bishop David Cremin, a Sydney auxiliary bishop, who was also a former student of All Hallows.
He retired as bishop on January 2, 2008 and lived in retirement in Paynesville, overlooking the Gippsland Lakes. On December 2011, he moved into a nursing home at Bairnsdale.
Bishop Coffey died on November 19, 2014, at Bairnsdale Hospital after suffering a stroke a few days earlier. He is buried in the grounds of St Mary's Cathedral at a spot chosen by him when he was Bishop of Sale.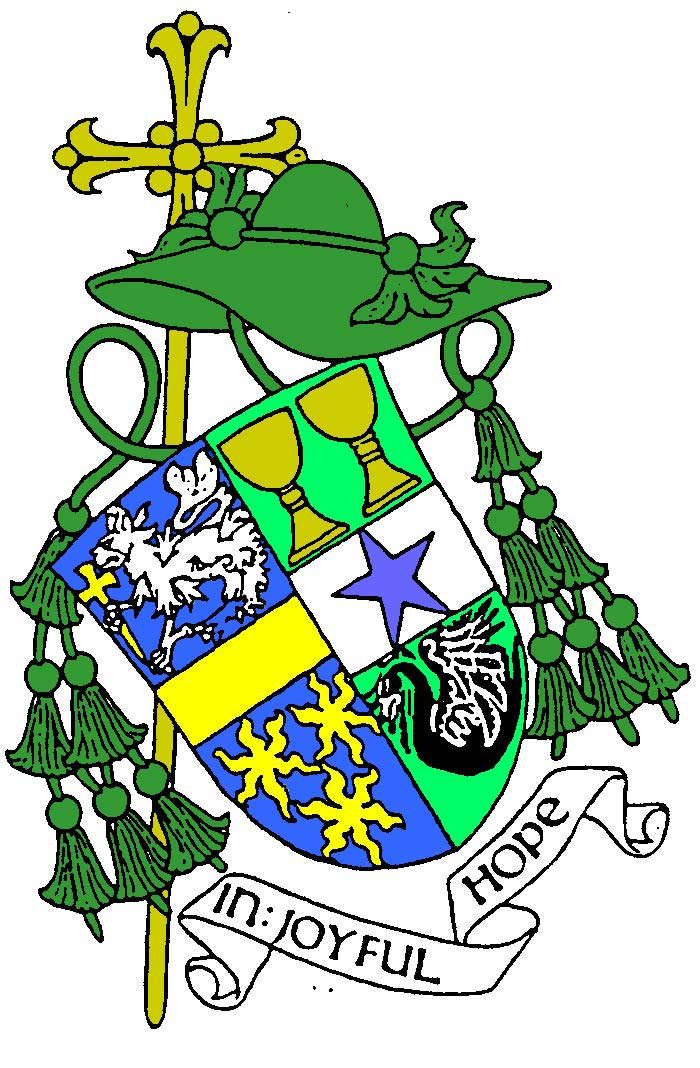 The Coat of Arms
Bishop Coffey's coat of arms (at left) was based on the various Coffey family arms which feature either three gold coffee cups or double handled mugs on a light green background. The top two cups were changed to gold chalices which signify the religious significance of the arms. The third cup at the bottom was replaced by a black swan which represents Gippsland and more specifically Sale, having been on the coat of arms of the City of Sale (now part of Wellington Shire) in which St Mary's Cathedral is situated.
The central white band with a blue star represents Mary as patroness of the diocese and to whom Bishop Coffey had special devotion. His motto was, "In Joyful Hope". His preferred style omitted the green hat and tassels indicating the rank of bishop.
Bishop Coffey's official coat of arms (right) has the shield placed at an angle to the episcopal cross. The arms are halved with the Diocese of Sale arms featuring the lion bearing the cross and the three wavy stars (estoiles) on the left. The right hand section features his personal arms.