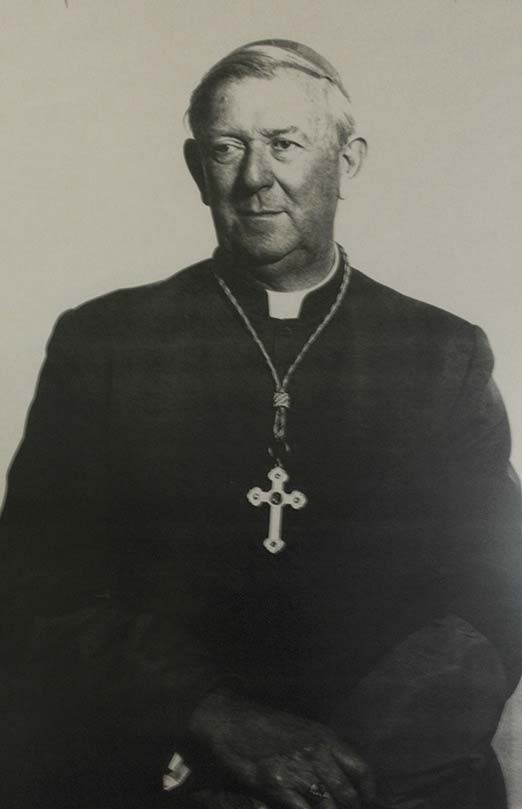 Sixth Bishop of Sale: 1981-1988
Known as Eric, he was born in Brighton, Victoria on ANZAC Day April 25, 1924. He was the eldest son of Joseph Simon D'Arcy and his wife Eileen, nee McCoy.
He received his primary education at Our Lady of Lourdes Parish School, Armadale, and his secondary education at De La Salle College, Malvern. He studied for the priesthood at Corpus Christi College seminary at Werribee and was ordained a priest for Melbourne Archdiocese by Archbishop Daniel Mannix at St Patrick's Cathedral, Melbourne on July 24, 1949.
He took an Honours Degree in Arts at Melbourne University, winning the Exhibition in Philosophy. He went on to receive a Master's Degree, with First Class Honours. In Rome he received his Ph.D. from the Gregorian University. In Oxford he was the first Australian born Philosopher ever to receive the Oxford Doctorate.
For 20 years, Dr D'Arcy was a member of the academic staff of Melbourne University, which appointed him Reader in recognition of the international standing achieved by his publications. He was episcopal vicar for tertiary education in Melbourne Archdiocese. He was also chaplain to B.A. Santamaria's National Civic Council for many years.
Dr D'Arcy was the author of Conscience and its Right to Freedom (Sheed and Ward, 1961), Human Acts: an essay in their Moral Evaluation (Clarendon Press, 1963), The Emotions (1967) and Pleasure (1975).
On February 25, 1981, he was appointed Bishop of Sale by Pope John Paul II. He was later consecrated in St Mary's Cathedral, Sale, on July 1, 1981, by his predecessor Bishop Arthur Fox. Co-consecrators were Archbishop Sir Frank Little of Melbourne, and Bishop Leo Clarke of Maitland, NSW.
He became a member of the Vatican's Secretariat for Non-Believers, on which he served continuously. He was promoted Archbishop of Hobart on October 24, 1988, and was installed on November 21 that year.
In 1988 he became Archbishop of Hobart, and was also appointed a Member of the Vatican's Congregation for Education. He resigned in 1999 and moved to Melbourne to live in retirement.
Emeritus Archbishop D'Arcy died in Melbourne on December 12, 2005. He was later buried at St Mary's Cathedral, Hobart, on December 19. Bishop D'Arcy included the Diocese of Sale in his will.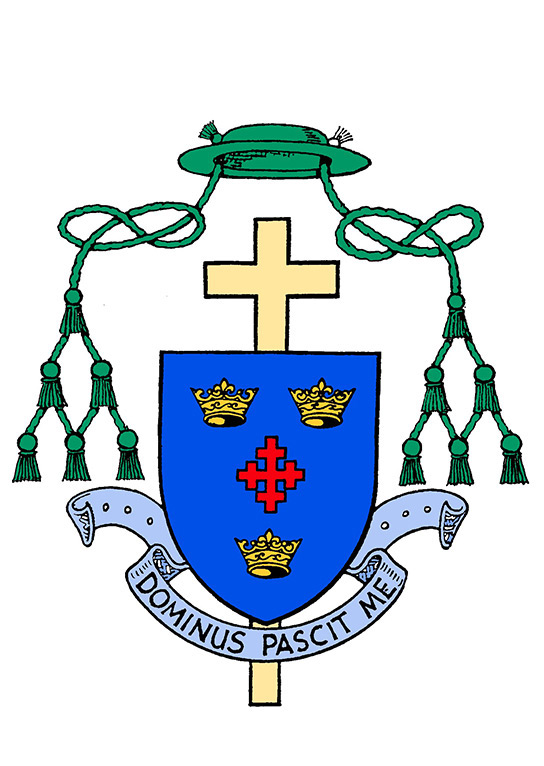 The Coat of Arms
His coat of arms when Bishop of Sale featured three gold crowns which signified the sovereignty of God in the Trinity – Father, Son and Holy Spirit. The triple significance also linked with the sovereignty of Jesus as prophet, priest and king, and of a bishop's triple functions of teaching, sanctifying and governing. The three gold crowns are in the arms prescribed to St Eric and also occur in the arms of Oxford University.
The red crosslet is central to the shield and signifies Christ offering his body on the cross for our redemption. With the each arm of the crosslet being crossed, it continues the Trinitarian theme of Jesus being priest, altar and lamb of sacrifice. This form of the crosslet is always found in arms of the D'Arcy family.
The field of blue denotes the Motherhood of Mary who as Our Lady of Perpetual Help is Patroness of St Mary's Cathedral and Sale Diocese.
The episcopal motto, "Dominus Pascit Me", comes from the opening words of Psalm 23, "The Lord is My Shepherd".
When Bishop D'Arcy became Archbishop of Hobart he changed the motto to "Ecce Agnus Dei", which translates to, "Behold the Lamb of God". While the full arms feature the traditional green hat and tassels, Bishop D'Arcy was the first bishop to drop these features and have a modified arms on letterheads featuring just the shield, episcopal cross and motto.