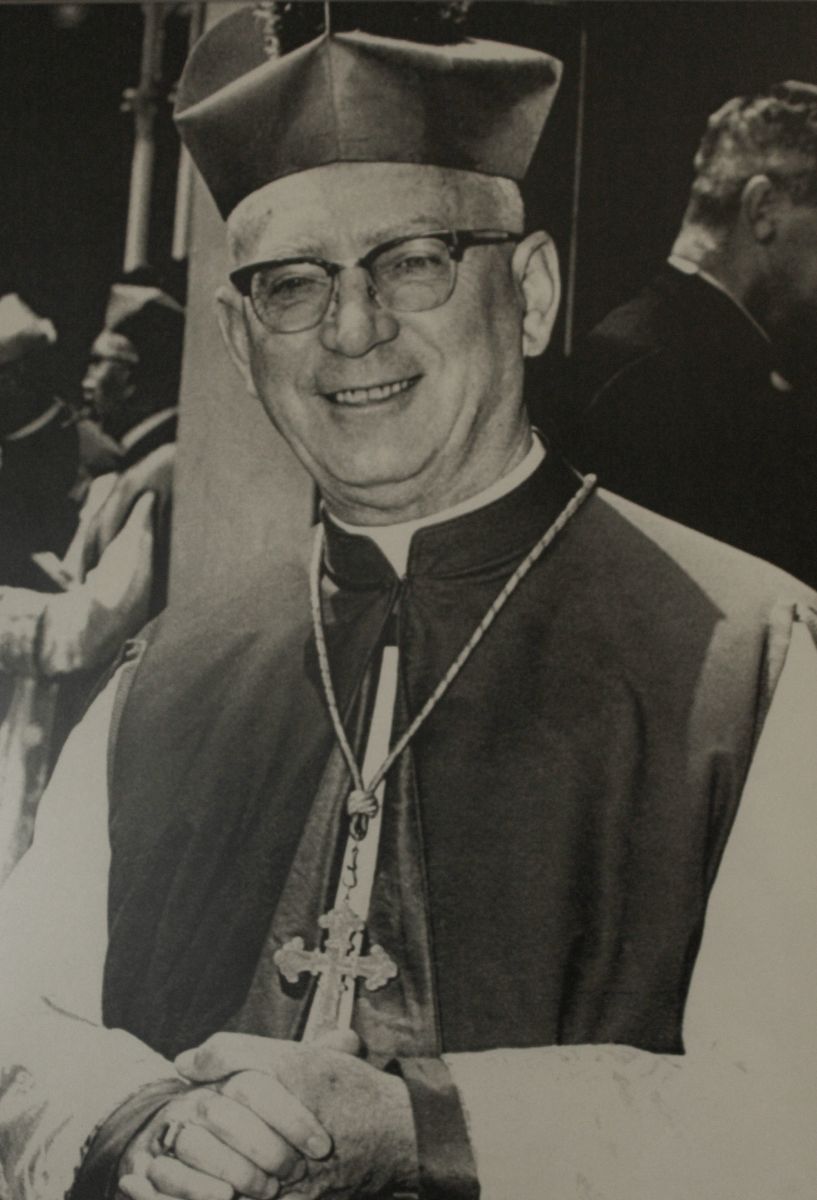 Fourth Bishop of Sale: 1957-1967
Bishop Patrick Francis Lyons came to Sale Diocese after previously serving as Bishop of Christchurch in the South Island of New Zealand and Auxiliary Bishop of Sydney.
He was the first Australian-born Bishop of Sale. Born January 6, 1903 in North Melbourne, he was the second child of Patrick Joseph Lyons and his wife Catherine Cecilia, nee McMahon.
He was educated by the Sisters of Mercy at West Melbourne and then the Christian Brothers at West and North Melbourne. He also attended St Kevin's, then located in East Melbourne.
After graduating, he worked as a clerk in the Department of Navy for four years before beginning his studies for the priesthood. He studied first at St Columba's College, Springwood, then St Patrick's College, Manly. He completed his studies at the Pontifical Urban College of Propaganda Fide in Rome, where Archbishop Daniel Mannix had sent him in 1923.
Patrick Lyons was ordained a priest for Melbourne Archdiocese in Rome by Cardinal Willem Marinus Van Rossum CSsR on January 6, 1927 (the same day as his 24th birthday). He became a Doctor of Divinity in June the same year.
In Melbourne Archdiocese he did pastoral work in Collingwood, Geelong, and Brunswick, before joining staff at St Patrick's Cathedral in 1935. In 1938 he became administrator of the cathedral, archdiocesan chancellor and private secretary to Archbishop Mannix.
He was named Vicar-General in 1939. In that same year, he established the St Patrick's Boys' Choir, incorporating members of the Vienna Boys' Choir who had been displaced because of the outbreak of the Second World War (which left them stranded in Australia).
In 1940 he was appointed a Knight of the Crown of Italy (Cavaliere della Corona d'Italia) in recognition for his services to the Italian community in Victoria. Pope Pius XII appointed him Bishop of Christchurch and he was consecrated a bishop in St Patrick's Cathedral, Melbourne, on July 2, 1944 by Archbishop Mannix. Co-consecrators were Archbishop Matthew Beovich of Adelaide and Bishop Hugh O'Neill, Coadjutor Bishop of Dunedin, New Zealand.
Bishop Lyons resigned from the See of Christchurch in 1950 and was an Auxiliary Bishop of Sydney on March 8, 1950. He was appointed Coadjutor Bishop of Sale on October 11, 1956, with right of succession which he took when Bishop Richard Ryan died on June 16, 1957.
In 1959 he negotiated the extension of Sale Diocese to the west when eight parishes were detached from Melbourne Archdiocese - Berwick, Maryknoll, Pakenham, Iona, Koo Wee Rup, Korumburra, Wonthaggi, and Dalyston.
He died in East Melbourne on August 13, 1967 and is buried in the crypt of Our Lady's Chapel in St Mary's Cathedral, Sale.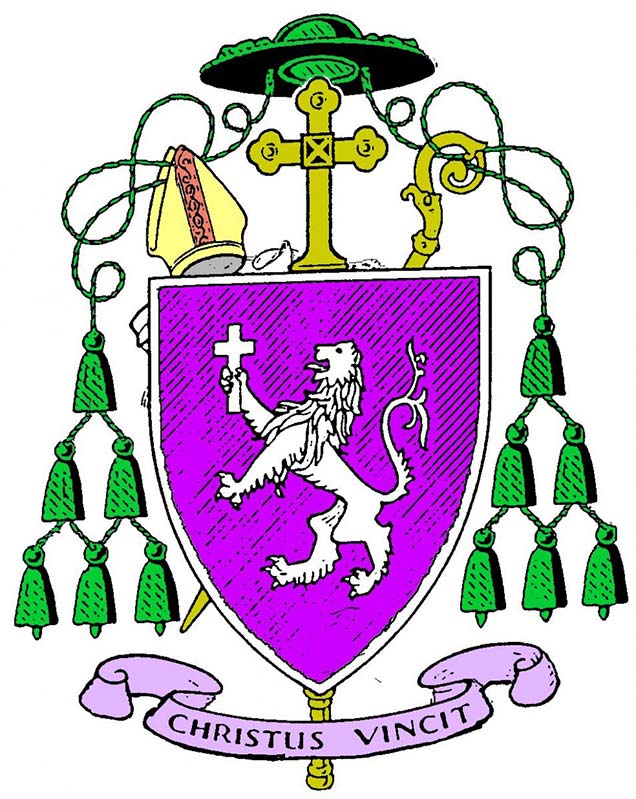 The Coat of Arms
His episcopal coat of arms featuring a purple field and rampant lion comes from the Irish branch of the Lyons family and the cross held by the lion is a Latin cross which signifies Rome where the bishop was ordained a priest.
His motto, "Christis Vincit", translates as, "Christ Conquers", and comes from the inscription carved on the base of an obelisk of Egyptian granite. This obelisk stands in the centre of the great Piazza of St Peter, Rome.
The obelisk is supported by four lions and was brought to Rome by the Emperor Caligua from the Temple of the Sun at Heliopolis. During solemn ceremonies in the Basilica of St Peter, the motet, "Christus Vincit", is a feature of the sacred music.